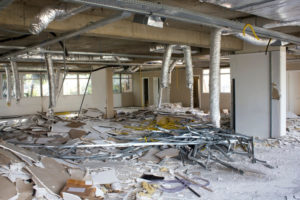 Interior strip-outs for major renovations and facility reuse at retail centers, commercial office buildings, manufacturing plants, hospitals, health-care, governmental, and institutional facilities, and multifamily housing.
This work typically involves complete gutting of a building, leaving only the main structural components. For example, roof, exterior walls, and concrete floors remain intact for a major renovation, expansion, or reuse projects. Interior strip-out could also involve removal of sections of, or the entirety of, a concrete floor, exterior walls, storefront, and/or roof to accommodate an addition, utility services, or a change in roof elevation.
DELTA's experience includes numerous retail, commercial, hospital, and governmental projects including the complete gutting of a vacant 20 story building for a major renovation/reuse as a hotel facility.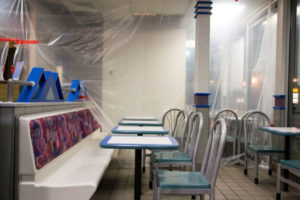 Selective demolition of certain facility components, interior finishes, and MEP (mechanical, electrical, and plumbing) items to facilitate a major or minor renovation or reuse of a facility or portion of a facility.
This work typically involves careful and detailed removal of specified finishes to accommodate remodeling/expansion in occupied facilities retail centers, multi-tenant and multistory buildings, hospitals, schools, industrial facilities, and historical renovations.
These projects require careful planning and close coordination with other trades, general contractors, and the owner/occupant. Planning and coordination allows us to minimize disruption and to expedite the project at hand. Often these projects are multi-phased over an extended period of time.
DELTA Services, Inc. has established itself as a leader in this field. We exceed standards in our ability to control noise, dust, and pollution. We consistently maintain a safe environment for the building occupants during demolition activities. Our experience and training in environmental remediation and indoor air quality issues, as well as our knowledge of construction, make our capabilities second to none.