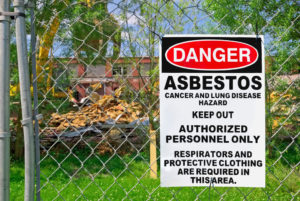 Asbestos is a naturally occurring mineral found in certain types of rock formations. Of the six types of asbestos, chrysotile, amosite, and crocidolite were the most commonly mined since the late 1800's and used in thousands of building products. When mined and processed the asbestos minerals are typically separated into very thin fibers that when alone are invisible to the naked eye. The asbestos fibers were then mixed into thousands of different building products because of their durability, chemical and fire resistance, and insulating qualities.
Most asbestos containing building materials were banned by the USEPA in the mid 1970's but these materials remain in many buildings, homes, and industrial facilities constructed prior to 1981. In good condition these building materials do not pose a health risk. When these materials are damaged or disturbed they can release the tiny fibers which can remain airborne for many hours. Common asbestos containing building materials (ACBM) include thermal insulation, fireproofing materials, surfacing/texturing materials, floor coverings, roof shingles, and exterior siding products.
Asbestos fibers can cause serious health problems when inhaled. Three specific diseases have been linked to asbestos exposure. They are – asbestosis (scarring of the lung tissue), lung cancer, and mesothelioma (cancer of the chest lining or abdominal cavity). It is commonly accepted that asbestosis is caused by long term exposure while lung cancer and mesothelioma may result from less exposure. Smoking can increase the risk of these diseases by more than 50%. These diseases do not develop immediately and it can take 20 years or more for symptoms to appear.
If you are planning either demolition or renovation activities, DELTA Services can provide a licensed Indiana Dept. of Environmental Management (IDEM) asbestos inspector who is familiar with building construction. We can inspect, evaluate, and make common sense recommendations to facilitate your demolition or renovation activities (Testing/Consulting services we provide).
In general all buildings constructed prior to 1/1/81 the existing surfacing materials (plaster, drywall, acoustical and finish textures, etc.) and thermal system insulation is presumed to contain asbestos until sampled by a licensed inspector. Buildings constructed after 1/1/81 may still require an inspection or there must be documentation that asbestos containing materials were not used during construction (construction records, material safety data sheets, etc.).
Abatement Services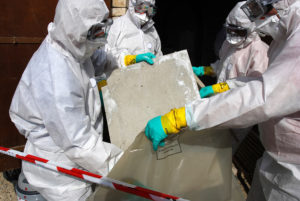 We provide asbestos removal, repair, or encapsulation services and specialize in long term facility maintenance contracts at commercial/industrial facilities throughout the State of Indiana. We can also provide reinsulation/replacement services as a licensed general contractor. We specialize in complete abatement and demolition of facility components (such as piping, boilers, equipment, and interior finishes) for major renovations and facility demolition or closure projects.
All DELTA employees are fully licensed and trained in all aspects of the asbestos industry. We employ the best available methods using state of the art equipment to perform our tasks in a safe, efficient, and cost effective manner while minimizing disruption of your facility.
With a commitment to quality and safety, let the professionals at DELTA Services, Inc. provide our knowledge and expertise for your next asbestos abatement project.